Inhalation sedation, laughing gas, relative analgesia, RA, happy gas, gas and air, nitrous, nitrous oxide, N2O-O2… this one has more names than any other sedation technique! Inhalation sedation with nitrous oxide (N2O) and oxygen (O2) has been described as "representing the most nearly 'ideal' clinical sedative circumstance"…
What is it? And what does it do?
Nitrous oxide (N2O) is simply a gas which you can breathe in. It has no color, smell, and doesn't irritate. It was discovered in 1772. Humphrey Davy (1778-1829), one of the pioneers of N2O experimentation, described the effects of N2O on himself following self-administration for a toothache and gum infection as follows:
"On the day when the inflammation was the most troublesome, I breathed three large doses of nitrous oxide. The pain always diminished after the first four or five inspirations; the thrilling came on as usual, and uneasiness was for a few minutes swallowed up in pleasure."
 The extract above pretty much summarizes the effects of nitrous oxide: it kills pain – and it induces a pleasurable feeling. After 5 minutes or so of breathing in the gas, you should feel a euphoric feeling spread throughout your body. It really kind of feels like a 'happy drunk' feeling. Some people find that there are auditory or visual effects as well. You will feel a bit light headed and often people get 'the giggles' (hence the name laughing gas!). As an interesting aside, nitrous oxide was one of the drugs of choice for young people in the late 1700s and early 1800s, when laughing gas demonstrations were a popular source of entertainment and enjoyment.
How does nitrous oxide work?
Depending on the concentration and length of administration of laughing gas, four levels of sedation can be experienced (after an initial feeling of light-headedness):
a tingling sensation, especially in the arms and legs, or a feeling of vibration ("parasthesia"), quickly followed by
warm sensations, and
a feeling of well-being, euphoria and/or floating. During heavier sedation, hearing may dissolve into a constant, electronic-like throbbing.
At a deeper level of sedation again, sleepiness, difficulty to keep one's eyes open or speak ("dream") can occur. 
How is nitrous oxide administered?
The equipment used for delivering "happy gas" is quite simple. It consists of a supply of compressed gases and an apparatus which delivers the gases to the client. By turning some knobs and on/off switches, the administrator can produce the desired mix of N2O-O2 in the desired quantities. Flowmeters and pressure gauges allow the administrator to keep an eye on the flow of gases.
The desired N2O-O2 mix is fed through a tube to which a nasal hood or cannulae is attached. This hood is put over your nose. All you have to do now is breathe normally through your nose.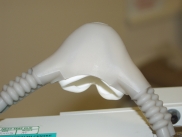 In modern machines there is a sort of double mask (see photo) where the outside mask is connected to a vacuum machine to suck away the waste gas – you wouldn't want your dentist to get a face full of N2O… The white inside mask, which is placed over your nose, comes in lots of yummy scents – such as vanilla, strawberry, and mint! 
If you are interested in having this procedure and require more information about please call our surgery number 01932570099 and book in for a FREE consultation.